The Bronco Build
The Original Fero Machine
I couldn't have dreamed of this Bronco build without these incredible partners and sponsors. Their time, expertise, advice, products and help all around made it a reality.
The main guiding principle from day 1 of this build was to never compromise on any parts. Every one is exactly what I wanted. I was meticulous about each brand's reputation, commitment to quality and style. The brands and products below are the best of the best, hands down. Though most parts were sponsored or discounted heavily, I made no compromises. I turned down many, many offers from other brands because their products didn't fit this vision. And I waited patiently for the right partners until it all came together. I hope you've enjoyed watching this build come together as much as I've enjoyed guiding it.
Thanks for following along. Stay tuned for what's next!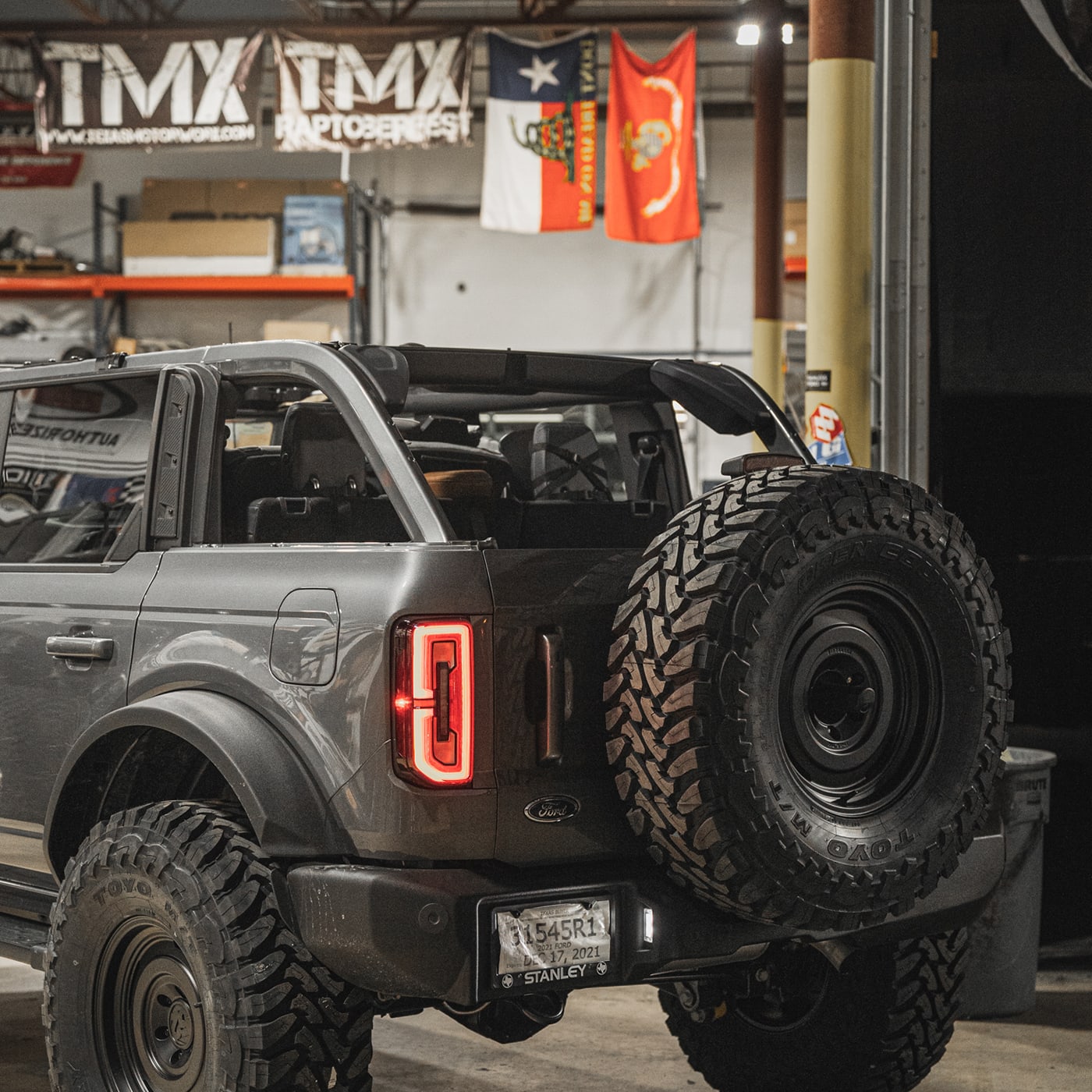 Build Partner
Texas Motorworx
These guys did most of the heavy lifting on our build, including installation of tires, wheels, suspension, control arms and lighting. They do incredible work and are highly recommended.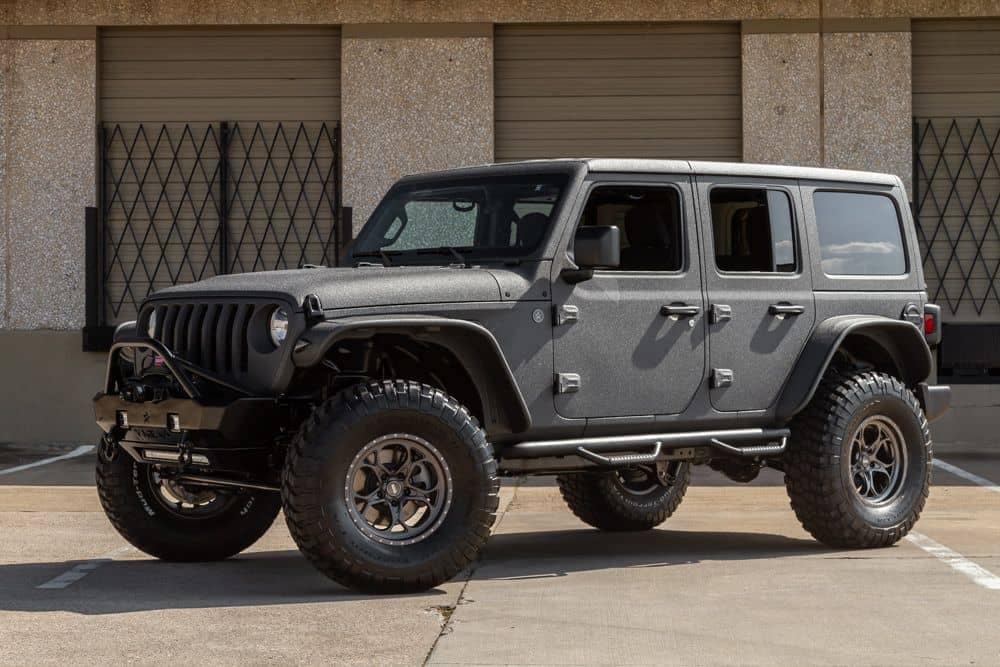 Build Partner + Paint Finish
Starwood Motors Signature Finish
The world-renown Kevlar paint in Starwood's signature Magnetic Metallic. Starwood also partnered with us on several big installs including fiberglass components, bumpers and side steps. Highly recommended.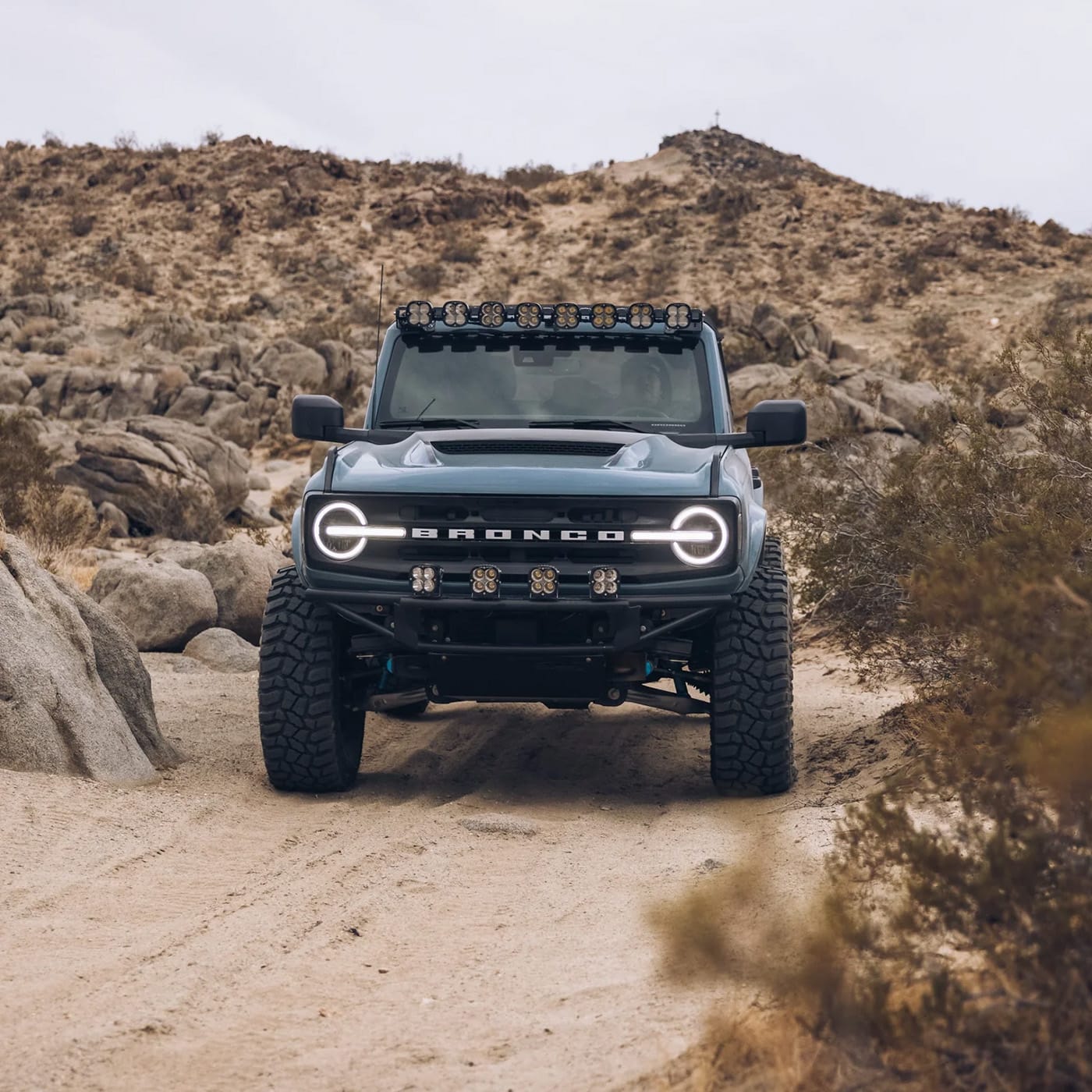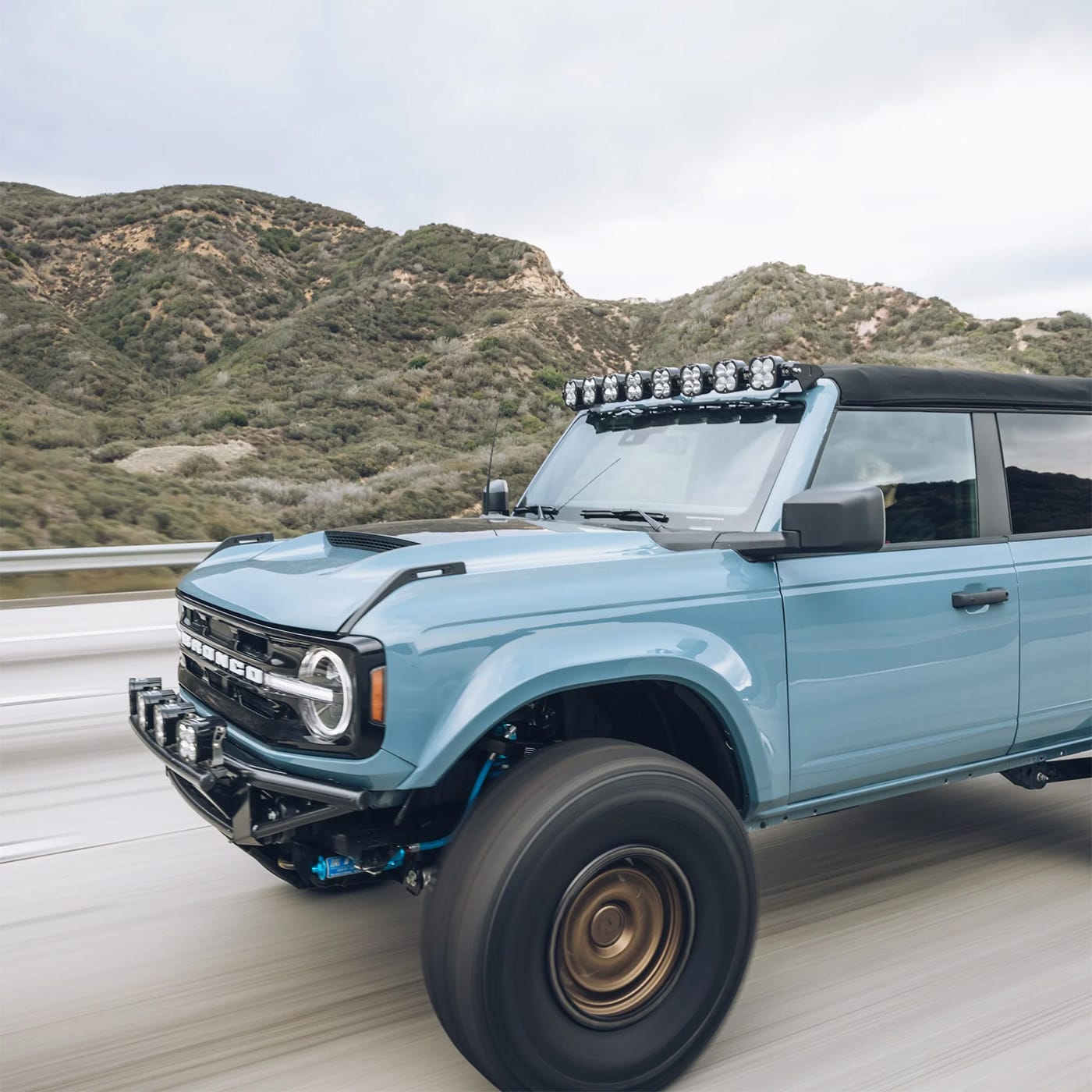 Hood
ADV Fiberglass Ram Air Hood
Aggressive style and superb build quality. Honestly, we wouldn't be surprised if it added 100 HP too.
Fenders
Advanced Fiberglass 2" Fender and Quarter Panel Kit
Throw it back to the early Bronco with this aggressive and retro-modern silhouette. This is what the Bronco should have come with from factory.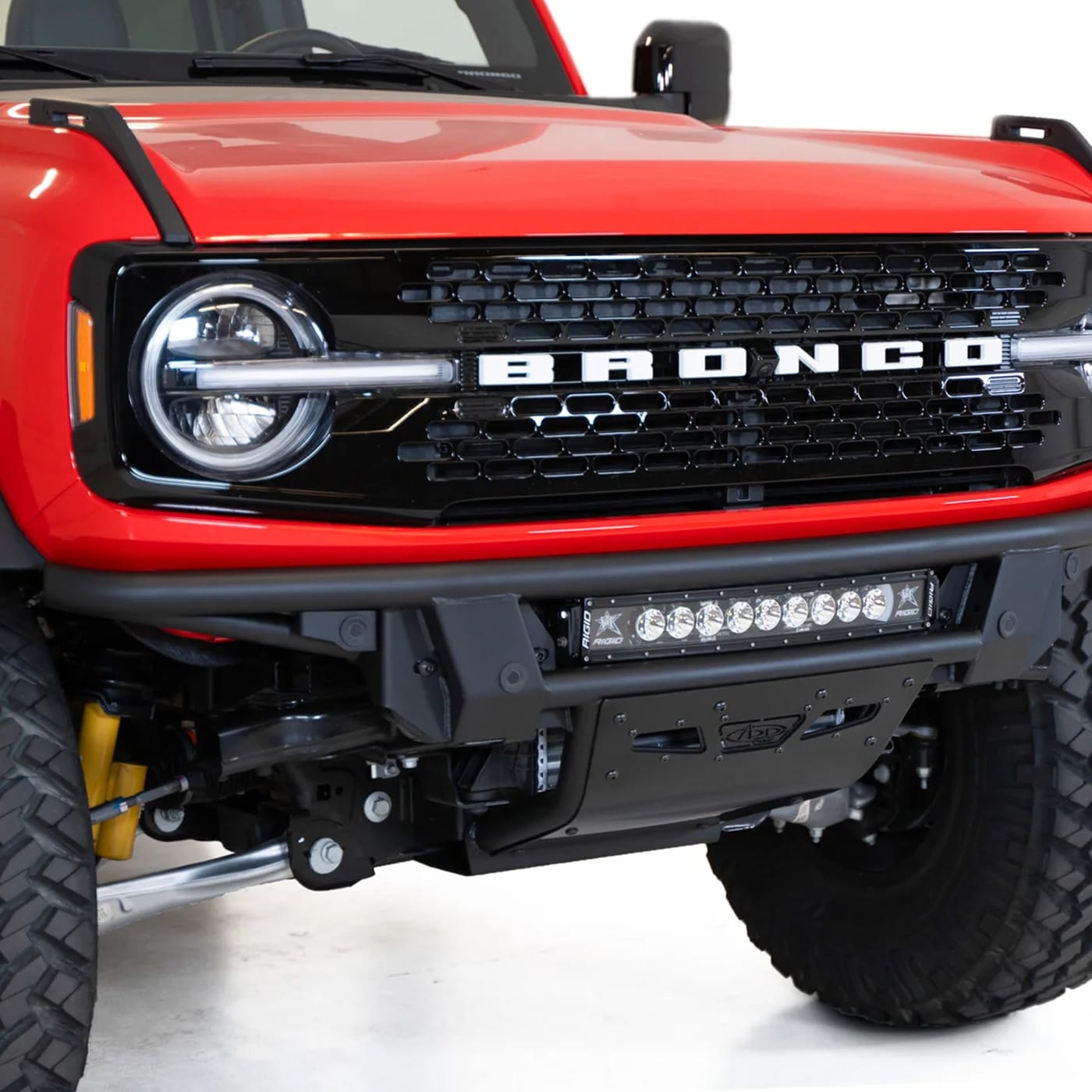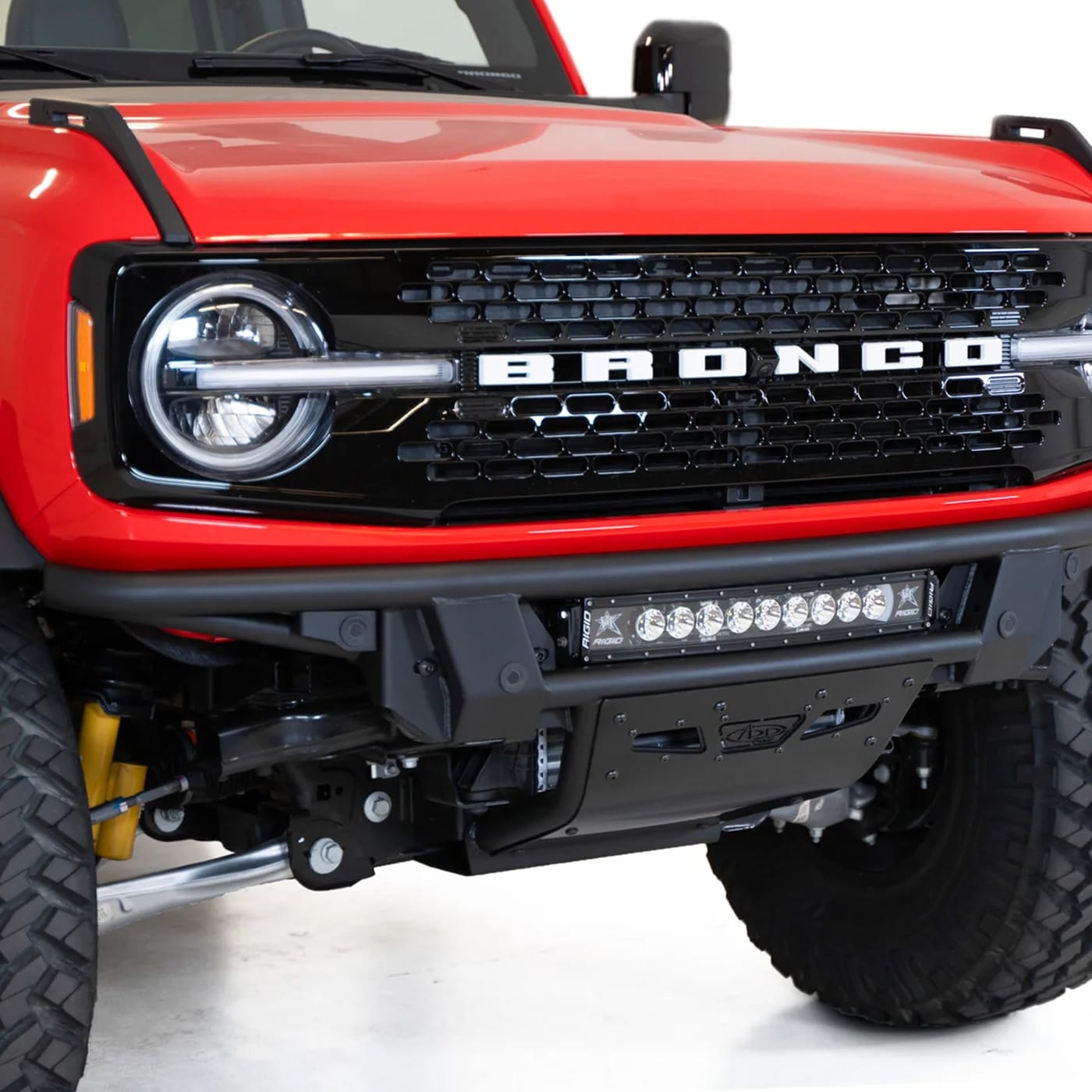 Front Bumper
Addictive Desert Designs Pro Bolt-on Bumper
The sexiest bumpers anywhere with unmatched approach and departure angles. Plus they utilize all the OEM sensors.
Rear Bumper
Addictive Desert Designs Pro Bolt-on Bumper
The sexiest bumpers anywhere with unmatched approach and departure angles. Plus they utilize all the OEM sensors.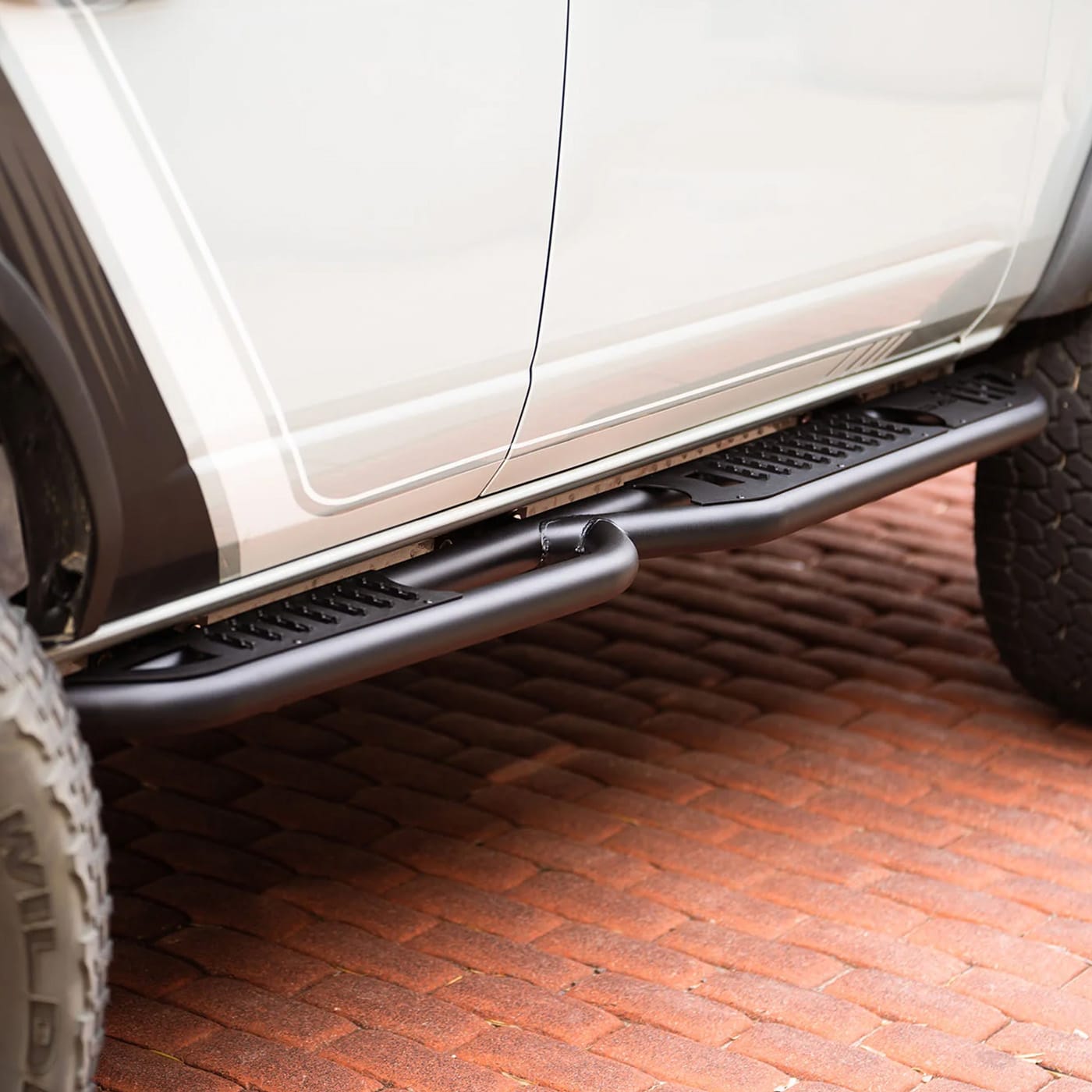 Side Steps
DV8 OE Plus Side Steps
Compliments the ADD Pro bumpers' tubular style, provides a grippy step and some light protection on the trails.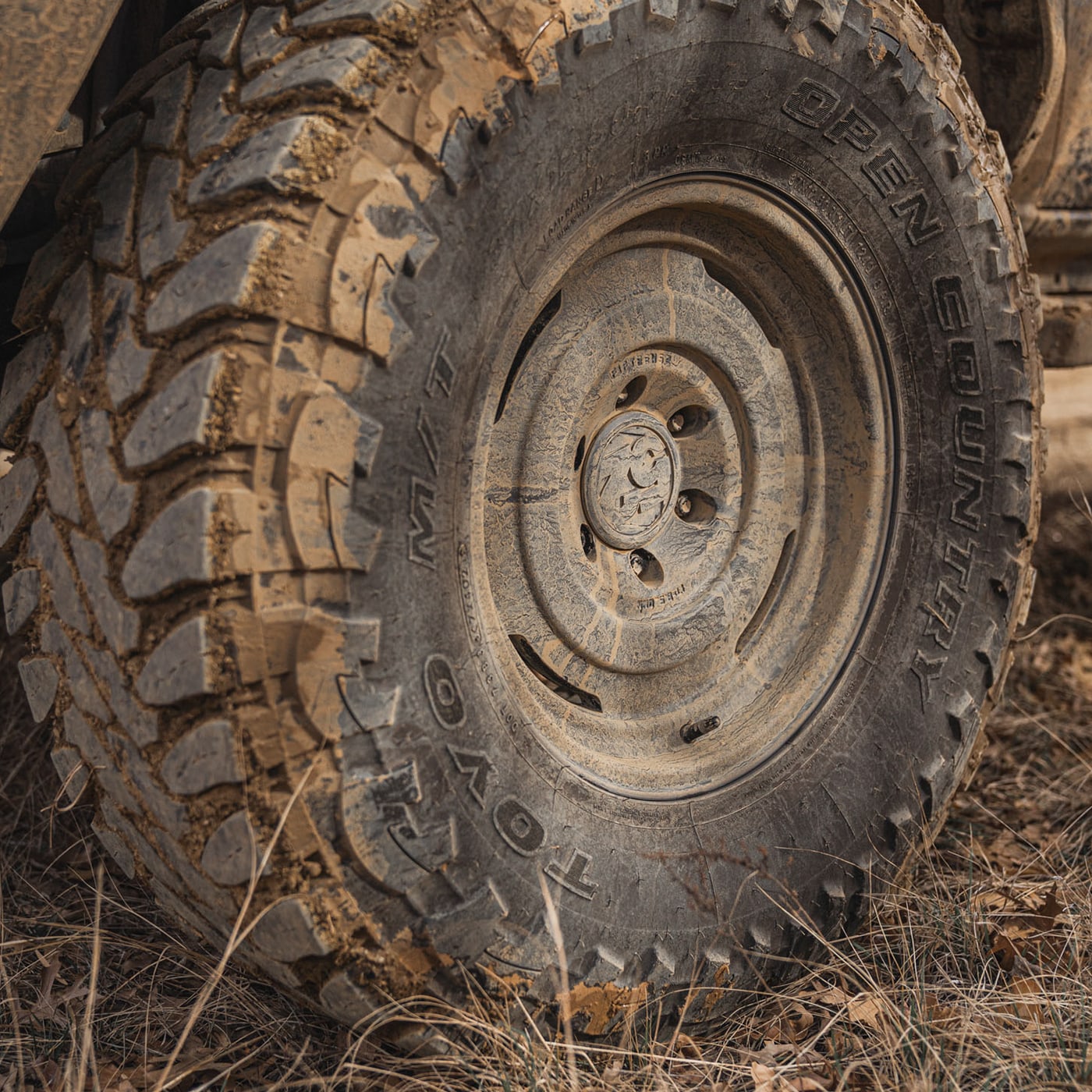 Tires: 37x12.50R17 
Toyo Open Country M/T
The iconic mud terrain tire with just the right amount of contrast against the Bronco's clean lines. Fully capable of making roads out of nothing.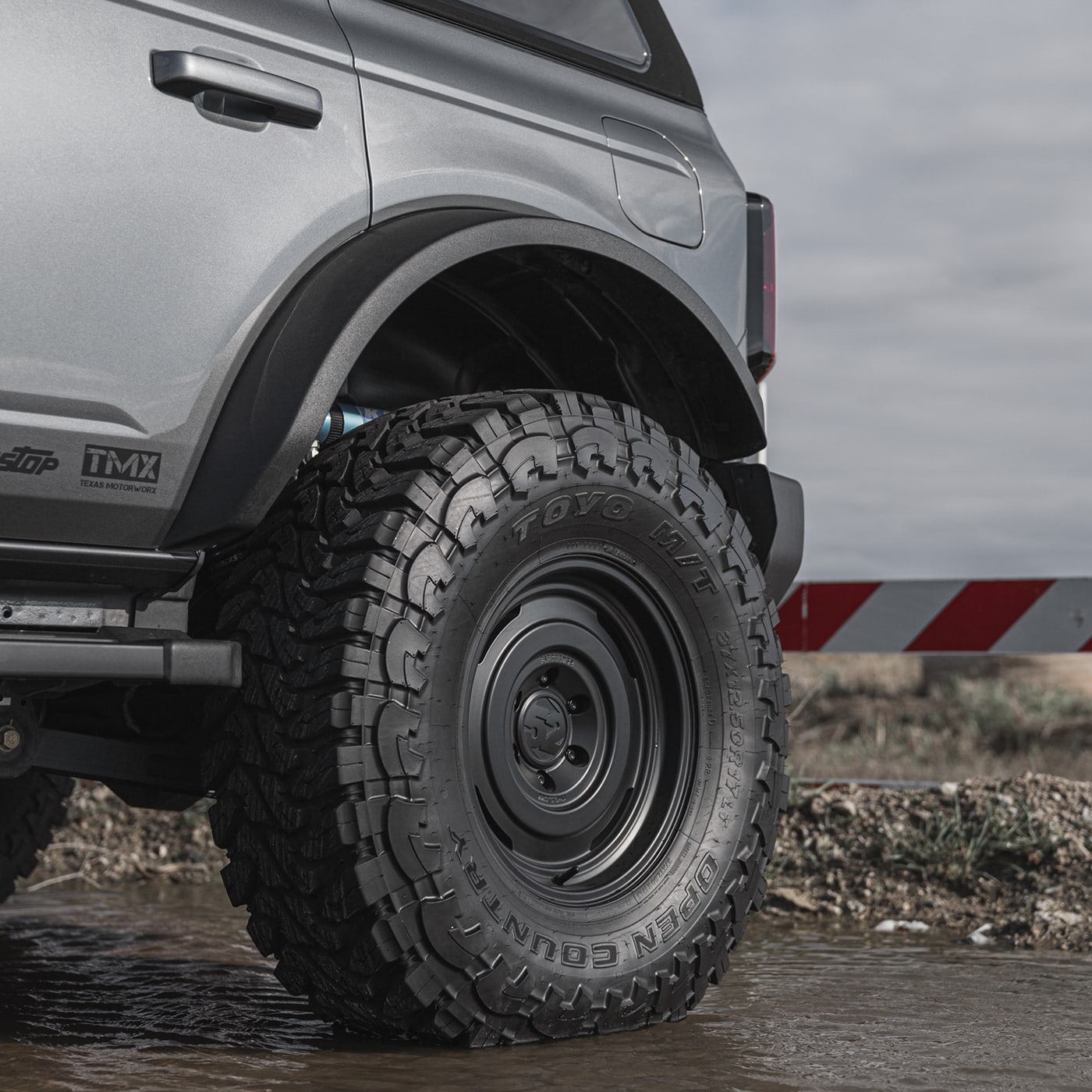 Wheels: 17x8.5 ET 0
Fifteen52 Analog HD
Timeless style with modern details. This is the best-looking, retro-modern wheel in existence and the perfect pairing for a 6th Gen Bronco in our humble but accurate opinion.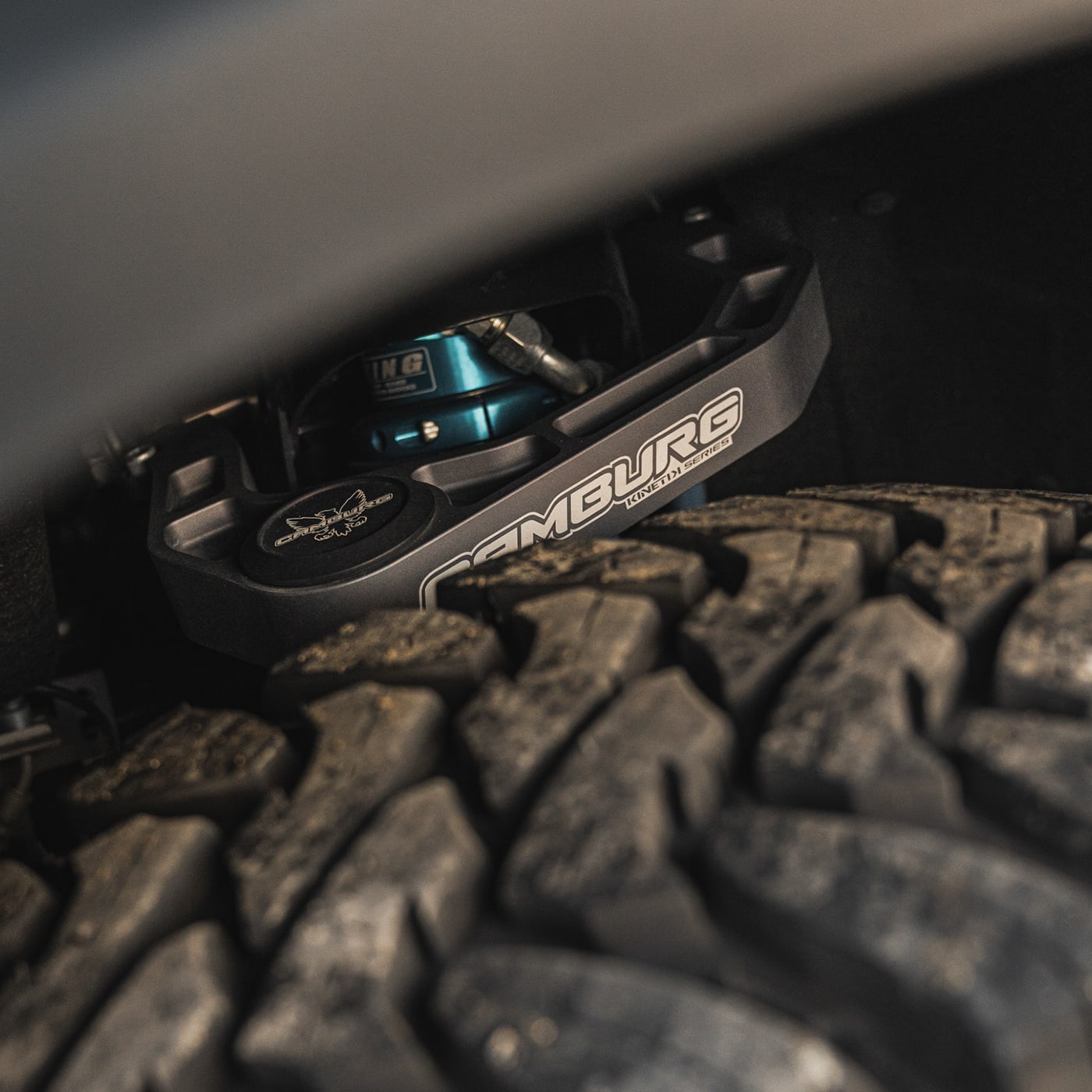 Control Arms
Camburg KINETIK Billet UCAs and Trailing Arms
Made in the U.S. from 6061 Billet Aluminum, these beastly arms bring all the control and rockstar vibes to the Bronco's suspension. If you're upgrading coilovers, these are a must.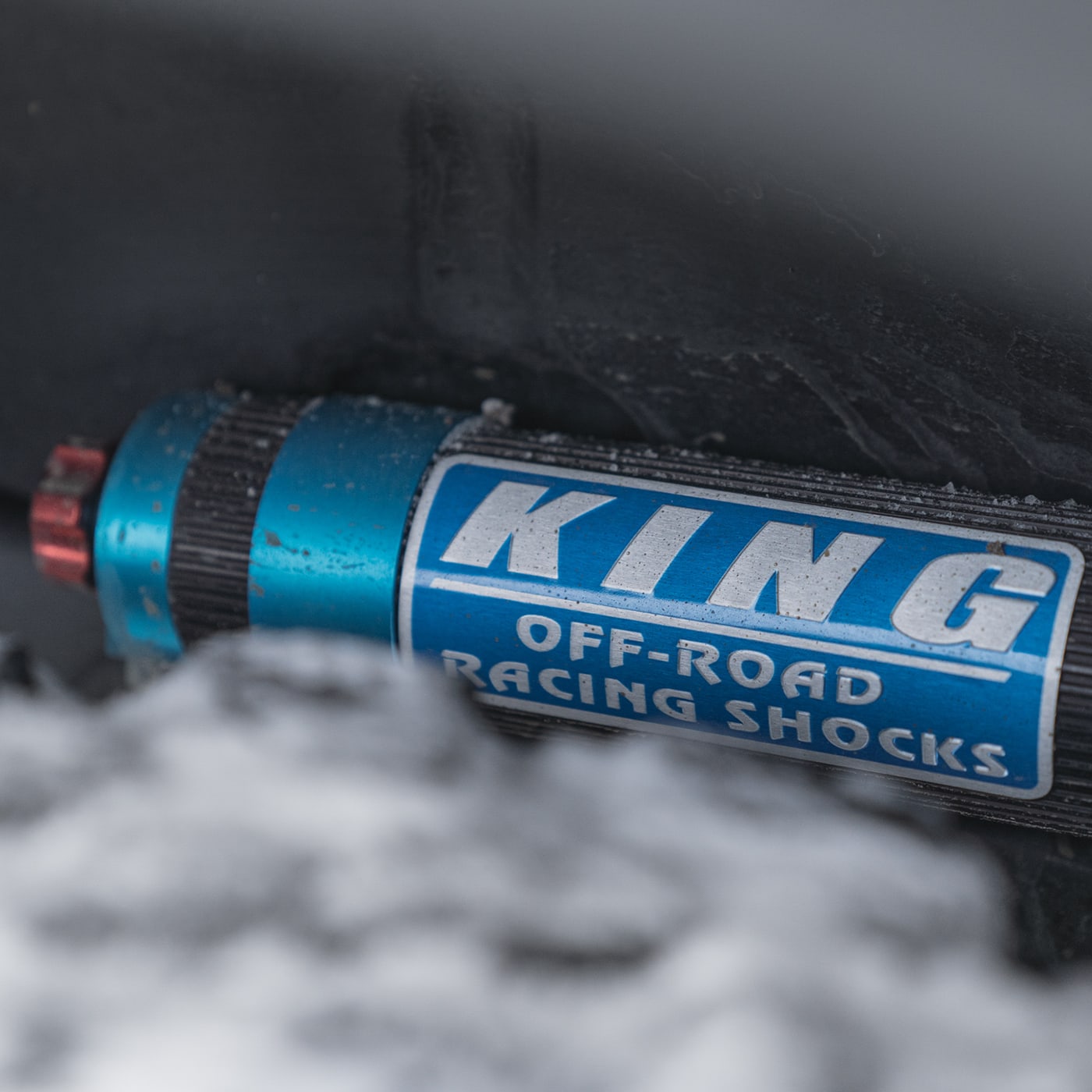 Suspension
King 2.5" Coilovers w/ Adjusters
Legendary shocks. We're rockin' some of the first ones ever made for the 6th Gen Bronco.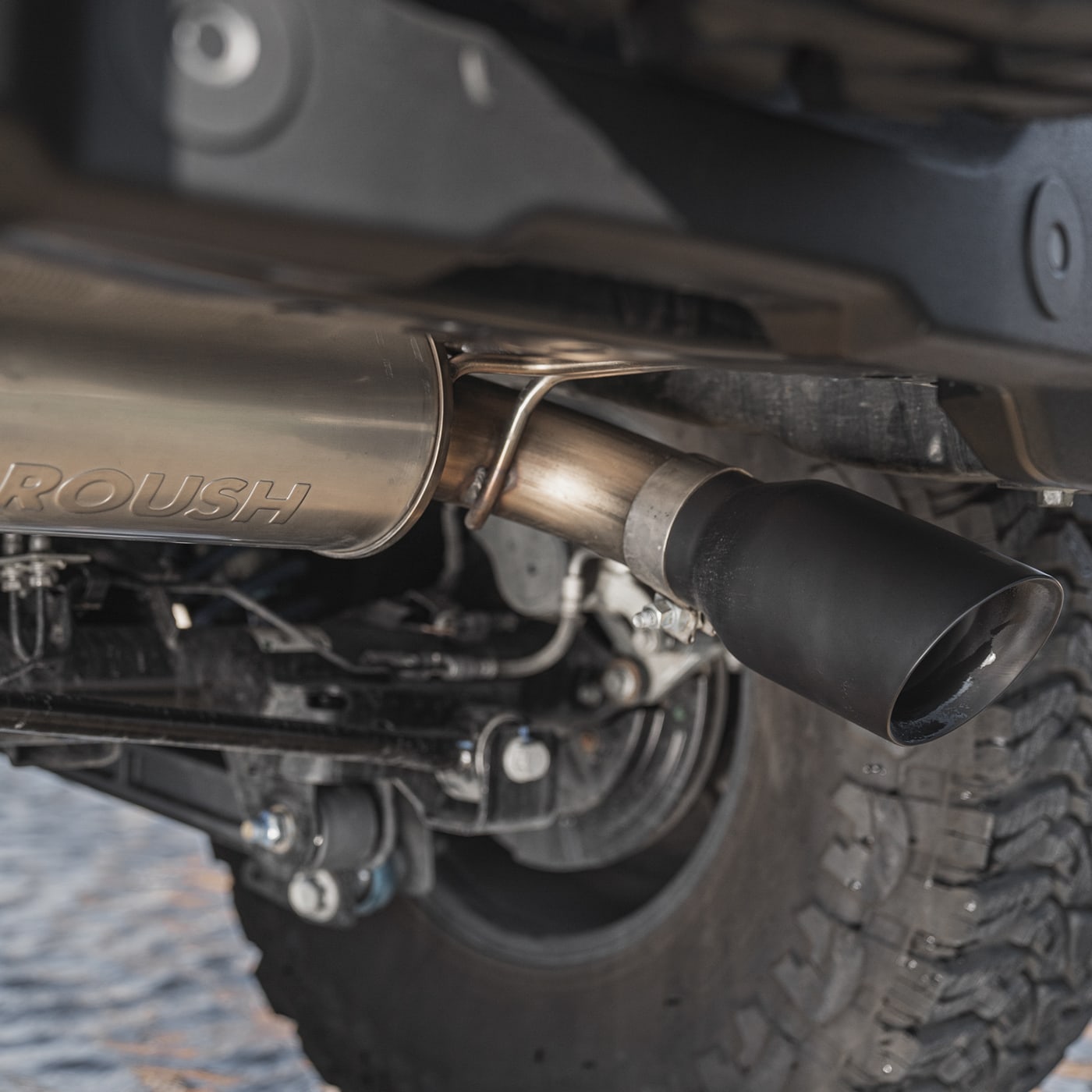 Exhaust / Intake
Roush Axle-Back Exhaust and Air Induction System
We have a new favorite sound. This is it. Every acceleration now comes with a growl and a smile.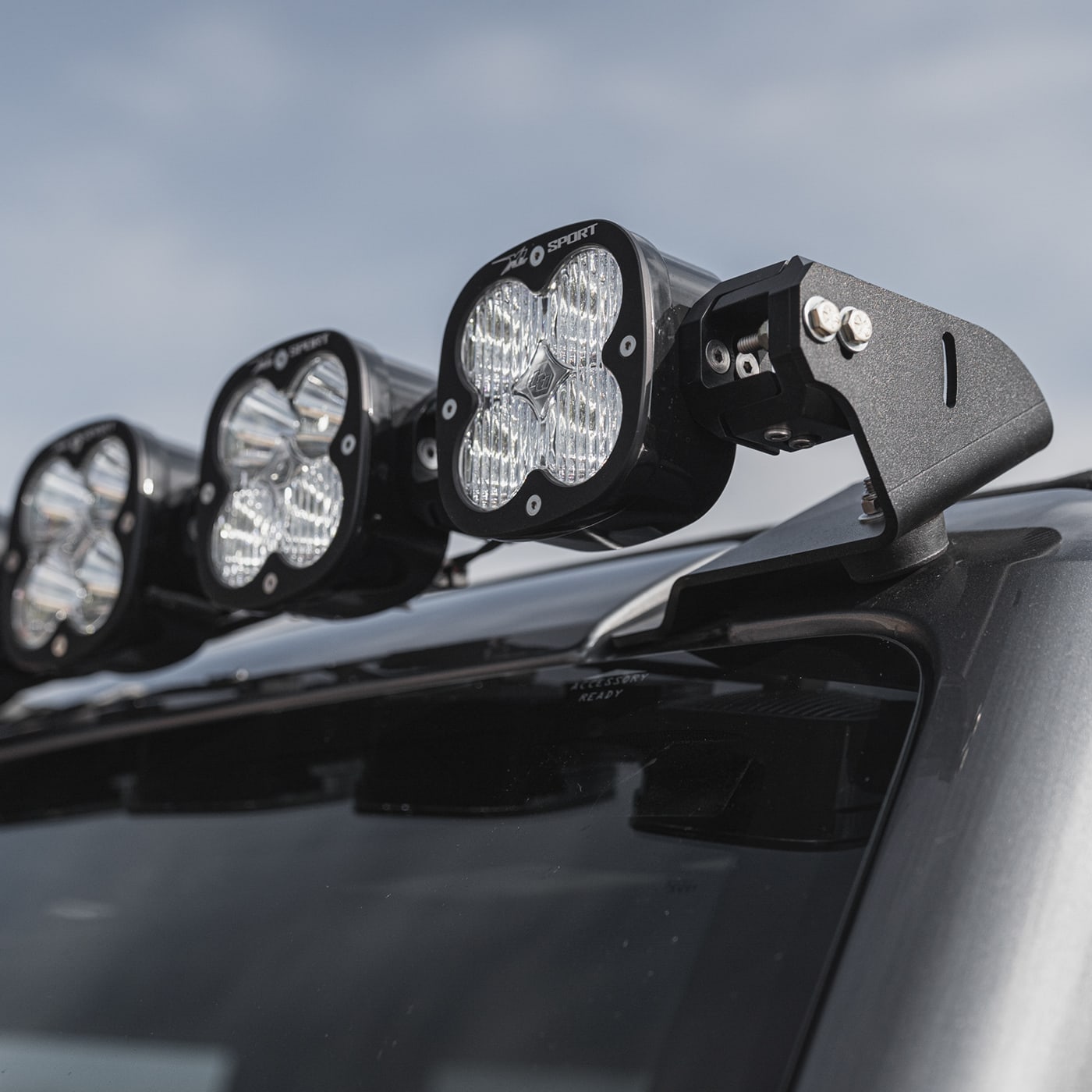 Roof Bar Lights
Baja Designs XL Linkable Roof Mount Light Kit
Light em up! Just don't do it while driving on roads.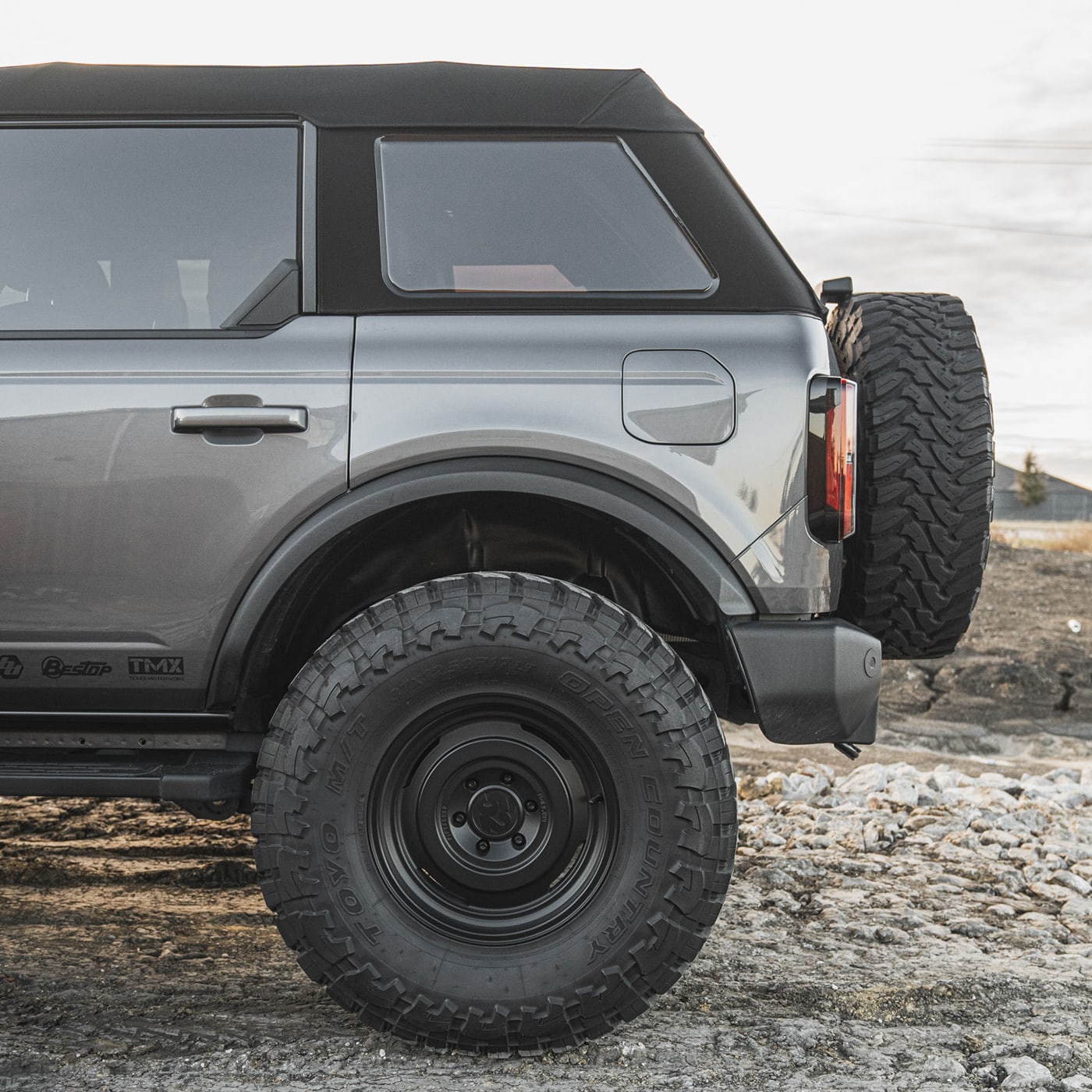 Soft Top
Bestop TrekTop
Provides the aggressive slantback style while retaining the quick convertibility of a soft top. Switch to open air faster than a traffic signal turns green (seriously it only takes 5 seconds).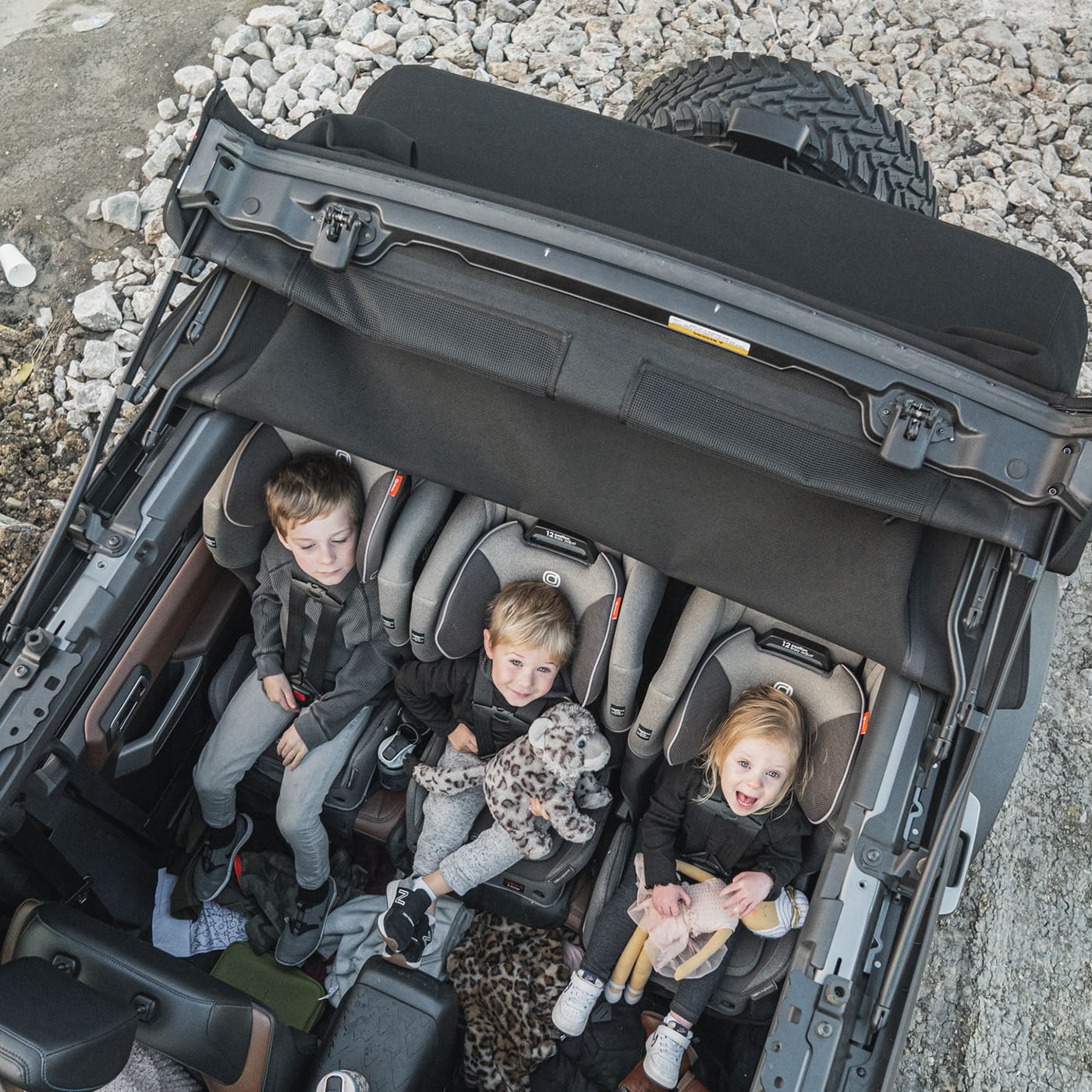 Child Car Seats x 3
Diono Radian 3QXT in Gray Slate
The original 3-across Car Seat Maker designed these to fit almost any vehicle. They fit the Bronco perfectly for all 3 of our kids (ages 8, 5, 3).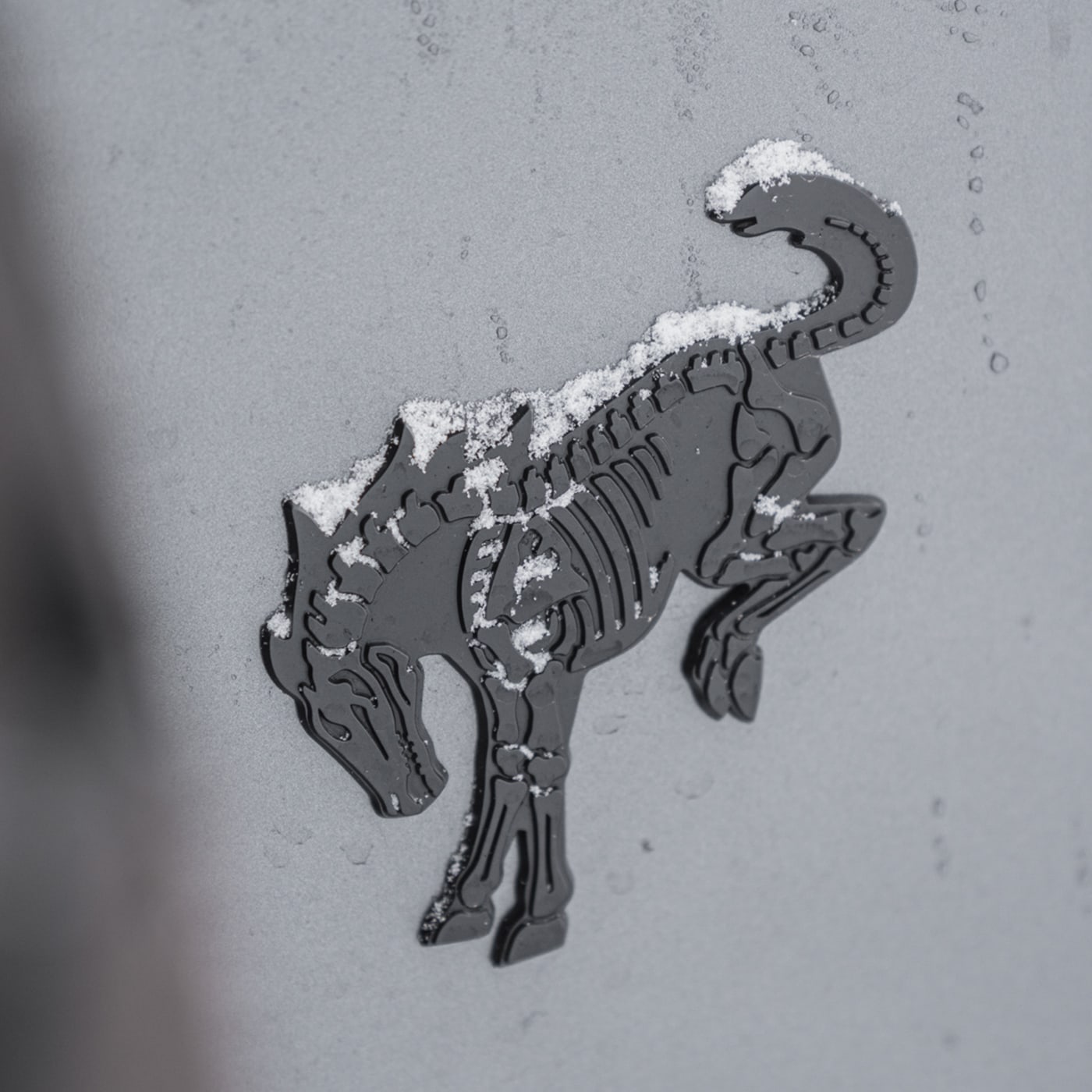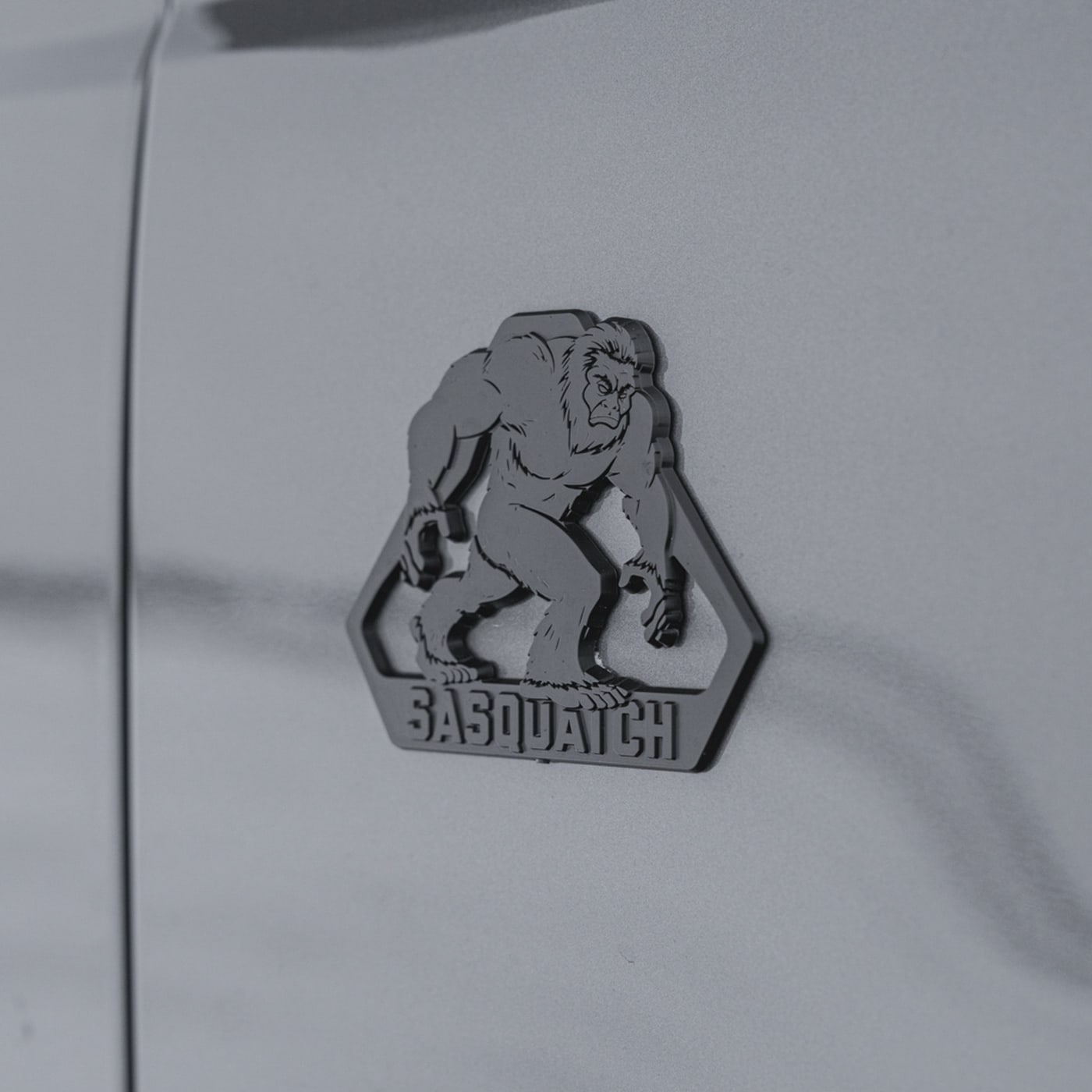 Swing Gate Badging
Bad Bronco X-Ray Swing Gate Emblem
Vintage. Glad you like the design. We do too. They're not for sale now. Don't ask.
Fender Badging
FERO Sasquatch Fender Emblems
Designed by us. Made in America from automotive grade materials. Better than a sticker.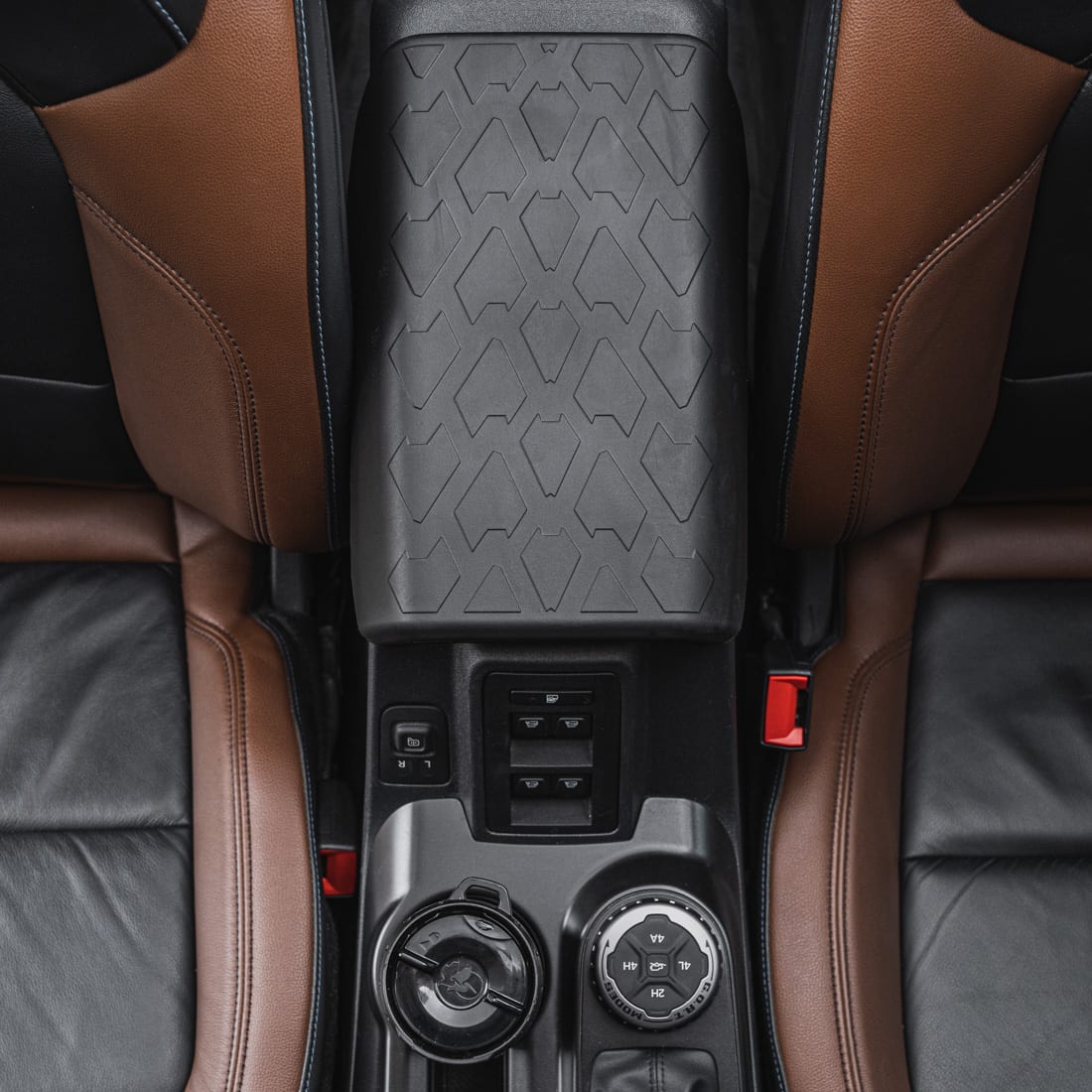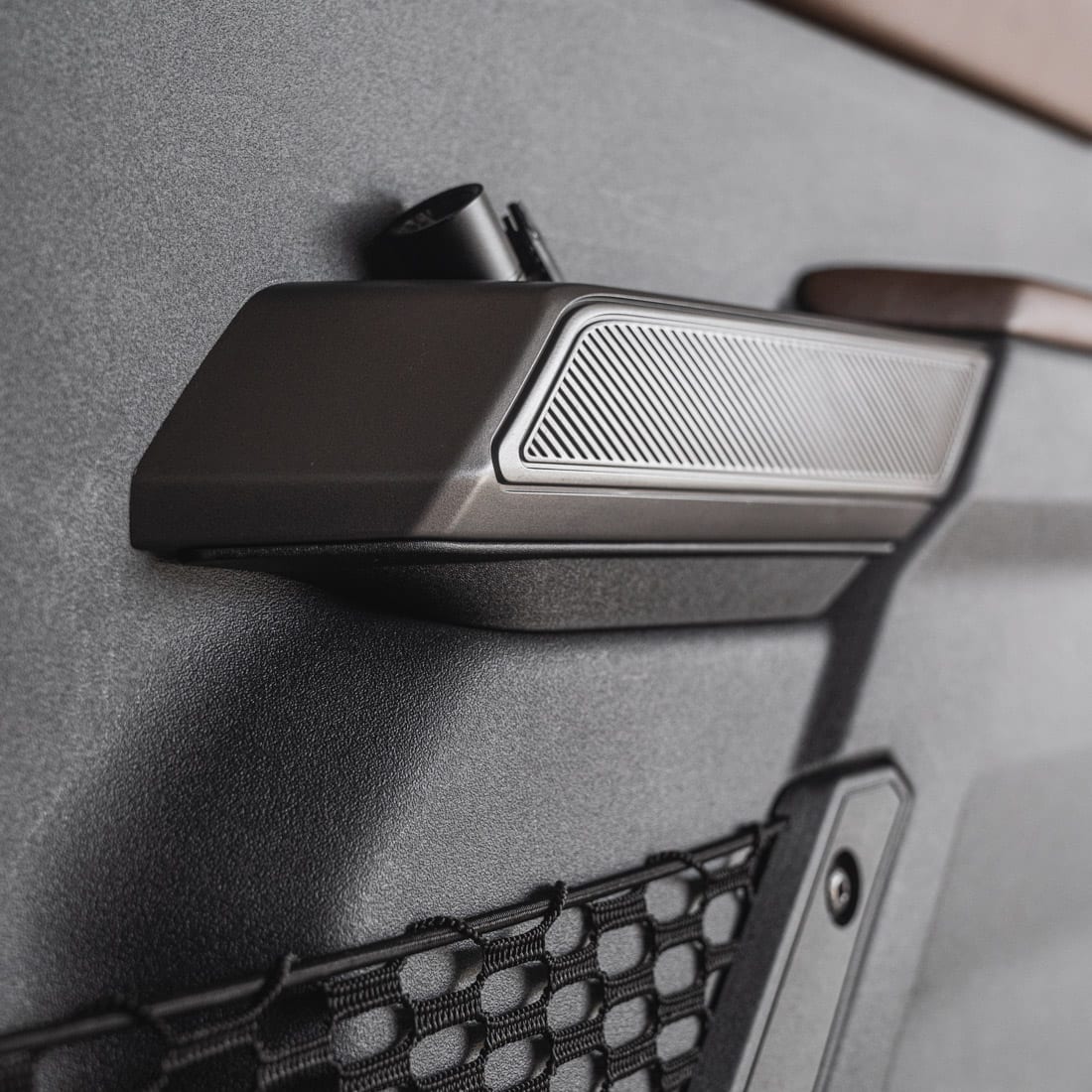 Armrest Cover
FERO Komodo Armrest Armor
Have pets and kids? Get this.
Door Handle Pocket
FERO Void Door Handle Pocket
Perfect for preventing your phone from falling through the crack...or holding candy wrappers.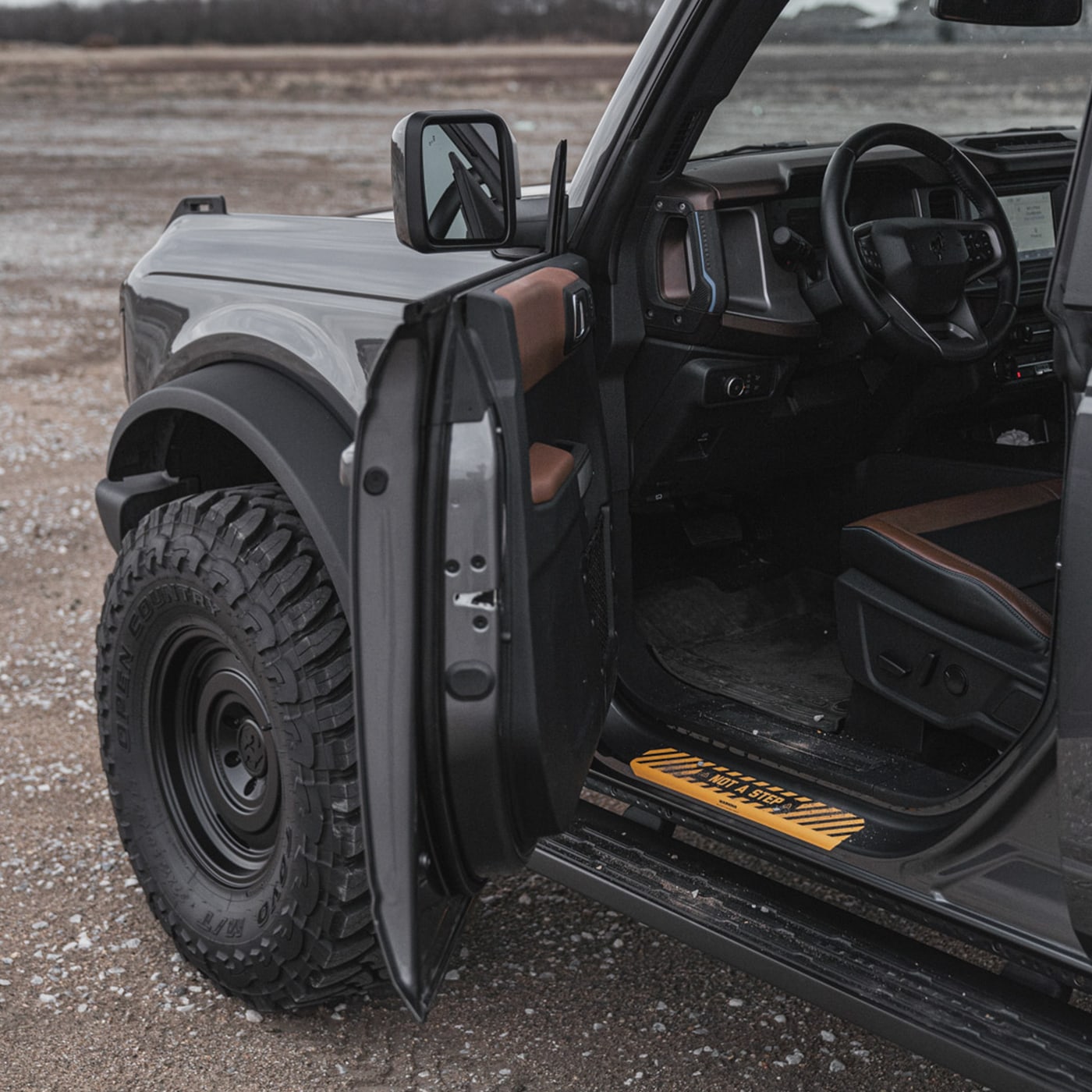 Door Sill Guards
FERO Not a Step Door Sill Guards
Designed by us, made in the U.S. Way higher quality than the cheap vinyl.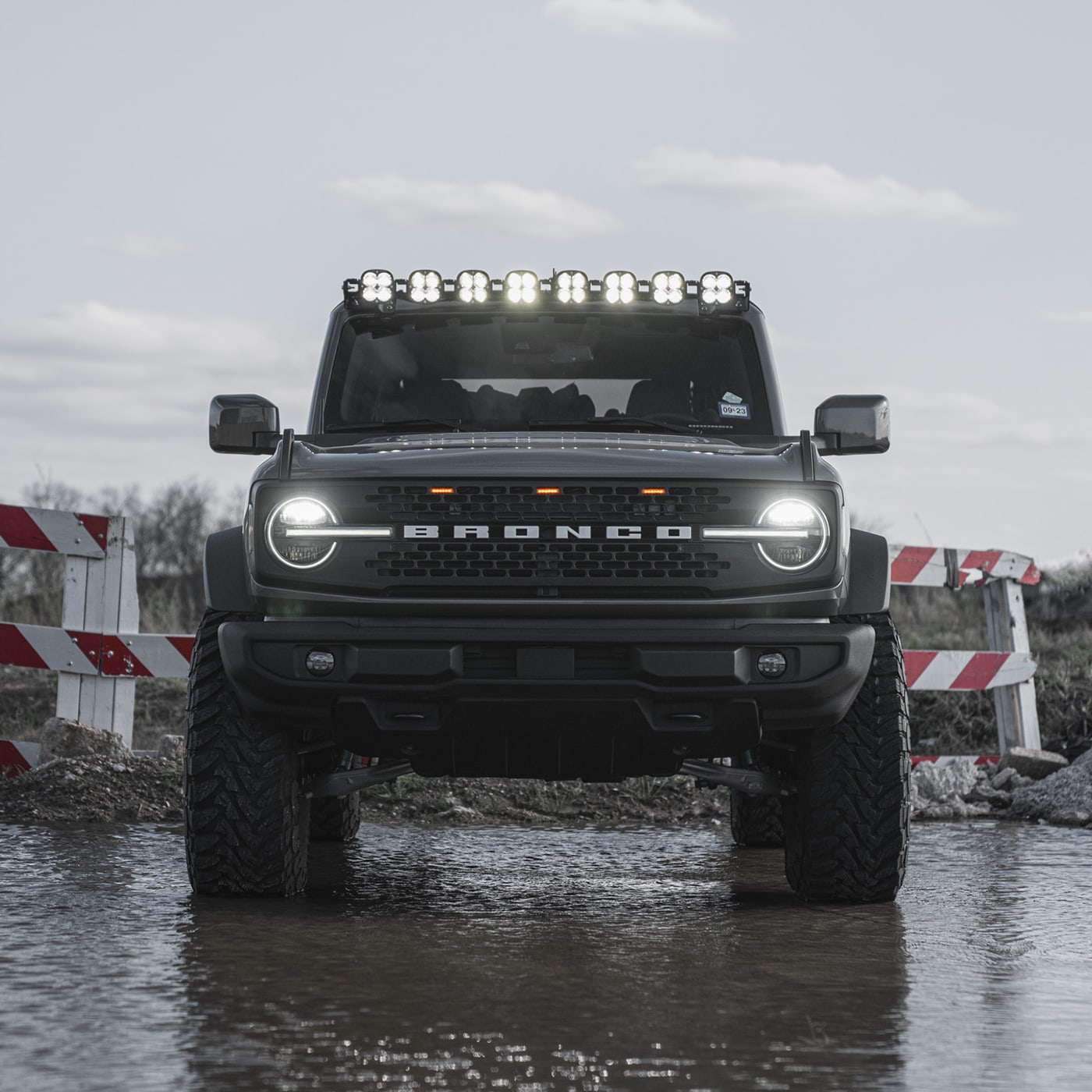 Grill / Marker Lights
Bronco LED Shop Amber Raptor Grill Lights
Mounted to an unpainted Badlands grill.
Foot Rests
RTR Foot Rests
Sit back, kick your feet up and relax. High quality and super grippy.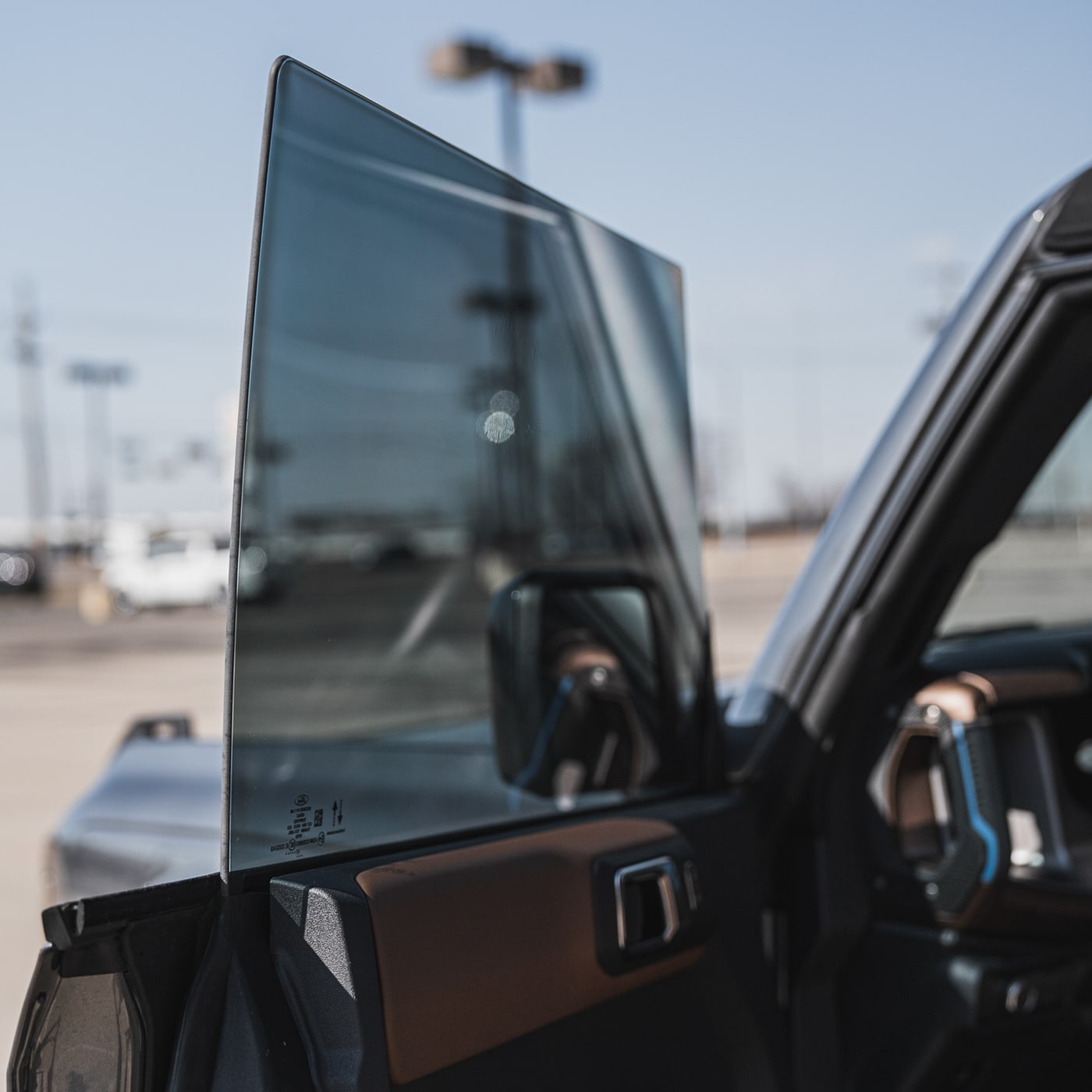 Window Tint
Xpel Prime Color Stable Black 35% VLT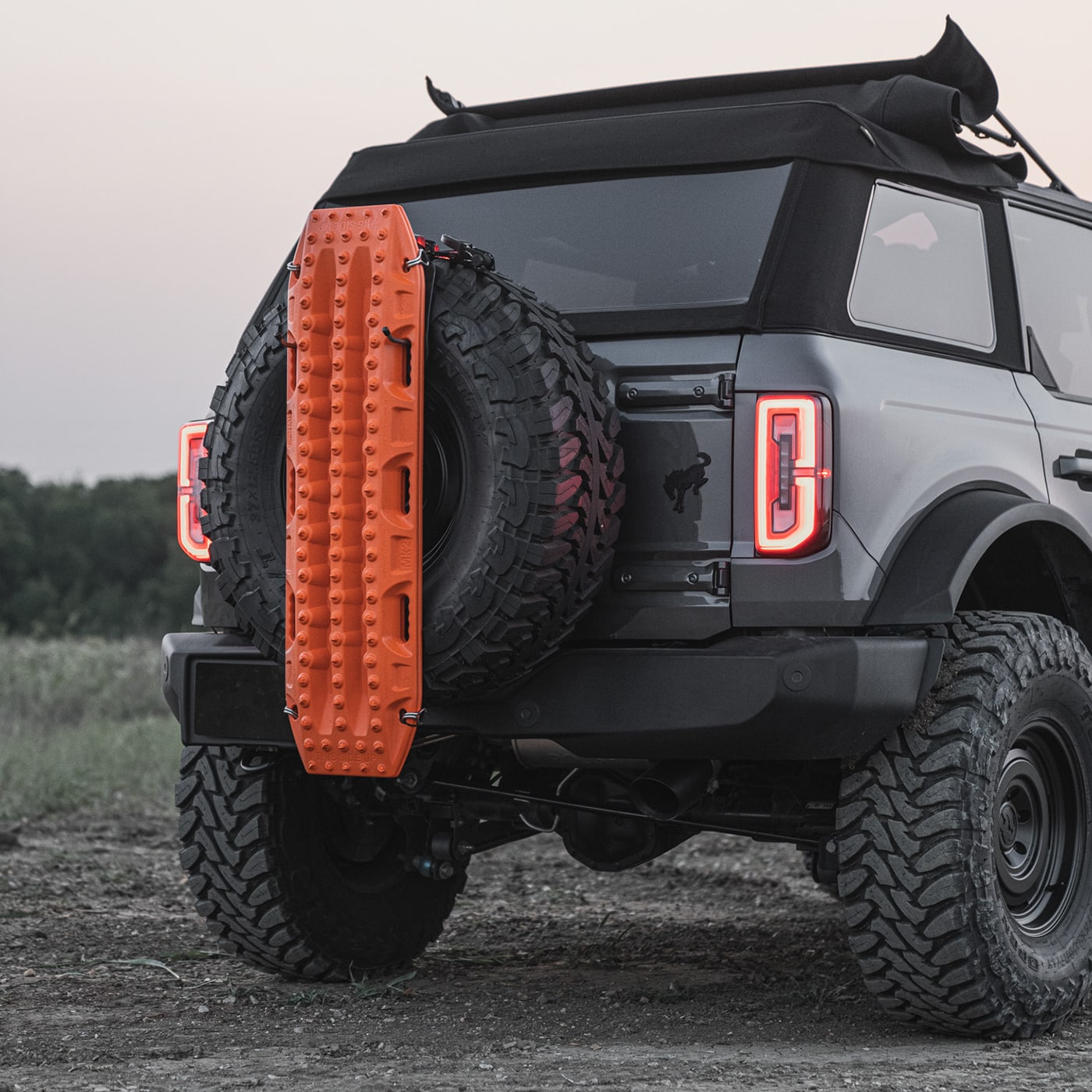 Recovery Boards
MAXTRAX MKII RECOVERY BOARDS
Unstick yourself with Maxtrax in Signature Orange.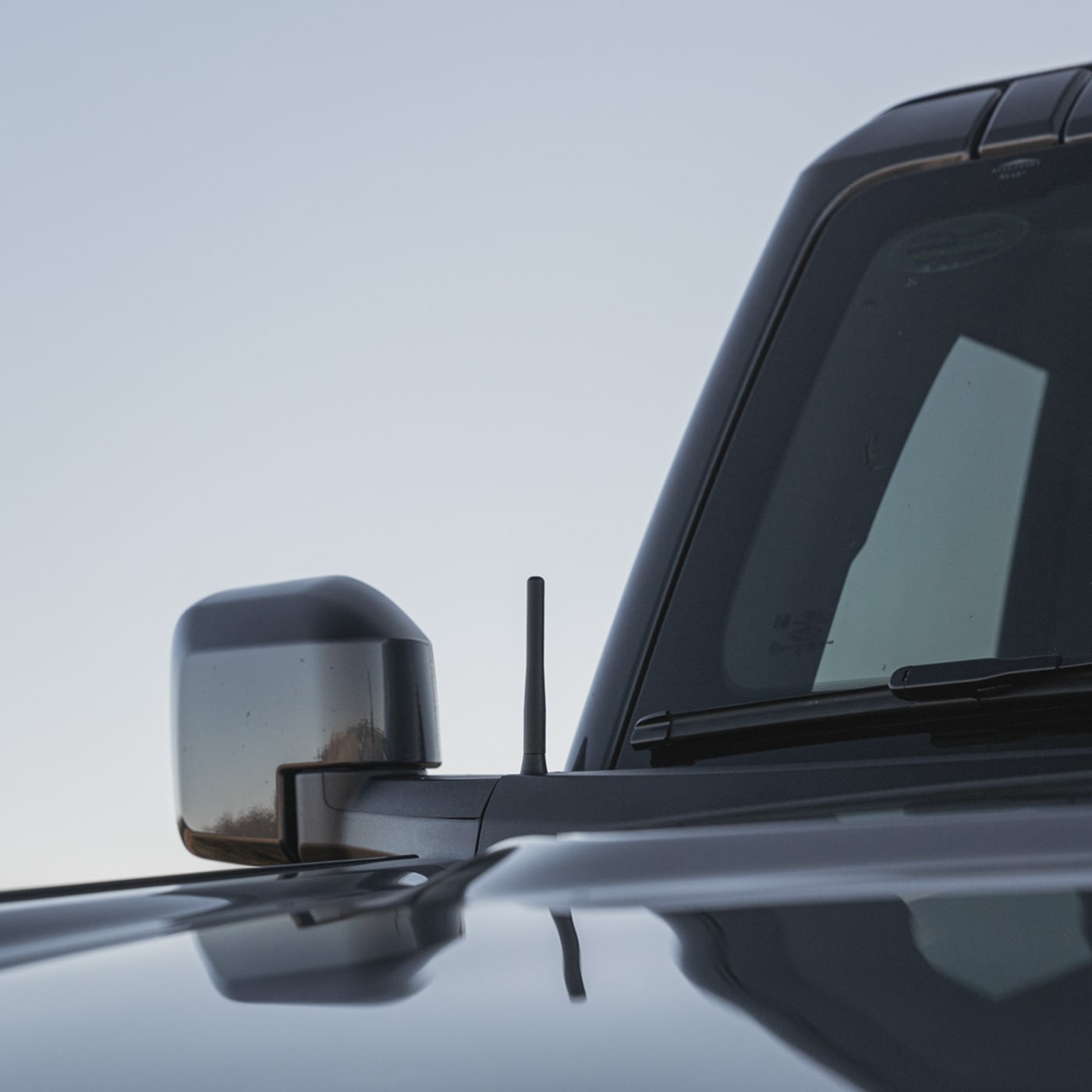 Antenna
BuiltRight Perfect-Fit Stubby Antenna
Looks clean, fits perfectly, functions as intended, and made in the U.S. from billet aluminum.
No rig is built alone
No rig is built alone, and I'm grateful to the people and brands that made it possible.
I'm especially grateful to Jason Cook of Texas Motorworx, John Pangilinan (Toyo, Fifteen52 and Pelican) and Jerry Zaidon of Camburg Racing. These guys are legends in this industry, and spent countless hours with me, giving me advice and helping me dial in this build. They each showed incredible patience with me as asked hundreds of questions. When I started this build, I was a newbie to offroading and vehicle modification and their guidance is hugely responsible for where I am today.
Feel free to explore all the mods and use the links provided to support them and me should you decide to purchase their products. Many of these products were provided to me for free or at a discount. Some links may be affiliate links.